This third look is one of my favorite color green! Green looks great with brown eyes!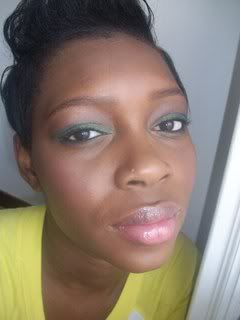 Base: MAC fluidline in springgreen (this is a green, this is now discontinued)
lid: 5th color of 3rd row (medium green)
outer lid: 6th color of 3rd row (deep green)
crease/blending: 7th color of 1st row (dark brown)
crease/lower lash: 6th color of 4th row (greenish black)
Like usual if you been following this post I'm using Revlon colorstay liner pen in black and loreal volumious in black. I'm also wearing MAC's tippy blush and loreal HIP lipgloss in eurphoric.