I maybe jumping on the bandwagon a little late but i have been hearing nothing but great things about coastal scents palette i have order two for myself for Christmas (the neutral palette and the 26 eye and blush palette) for 22 dollars a pop you can't beat it!!!! When i get them i will post an update as well as any looks i come up with using only the palettes.
www.coastalscents.com for more info
Update: OK i got my palettes on Tuesday, the shipping was quite fast i live in NJ and these were shipped from FL, it took about 3 days!!!! I was very please with the packaging these palettes are very sleek and slender perfect for traveling.I only tried the neutral palette, sorry didn't take any pics!!!! But i love the way it came out, i would highly suggest both of this palette for working women who need a little more of a conservative look for work. I do have one word of advice, please use a good base with these shadows ( L'oreal cream shadows work great as well as and MAC paints you may have) or the could appear a little chalky. Other than that I really like these palette a great budget buy ladies!!!!!!
here are some pics of the palletes:
this is the 26 shadow and blush combo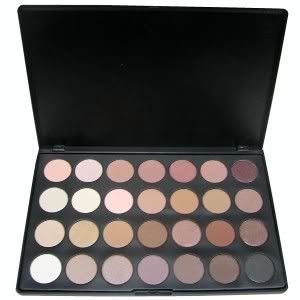 the neutral